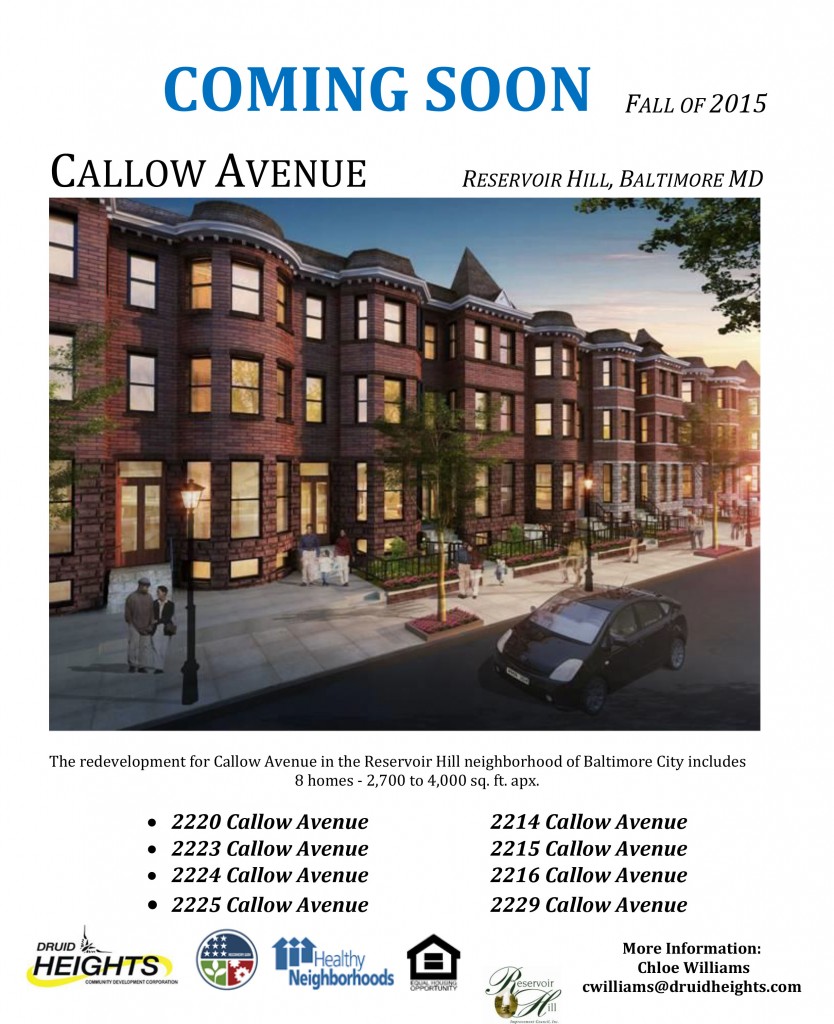 NSP2 Callow Ave
Druid Heights Community Development Corporation (DHCDC) in partnership with Healthy Neighborhoods, Inc. is redeveloping properties on the 2200 block of Callow Avenue.
These 9 properties are being redeveloped under the Healthy Neighborhoods NSP2 Program. Neighborhood Stabilization Program (NSP) was established by the Department of Housing and Urban Development (HUD) for the purpose of stabilizing communities that have suffered from foreclosures and abandonment. Through the purchase and redevelopment of foreclosed, abandoned and short-sale homes, the program's goals are being realized. The properties listed in this RFP are to be sold to households whose incomes are at or below 120% of Area Median Income. The homes must be Owner Occupied and Homebuyer counseling by a HUD approved counseling agency is required prior to settlement.
NSP2 in Reservoir Hill, made possible by the American Recovery and Reinvestment Act provides funding for the acquisition and rehabilitation of foreclosed, abandoned and vacant properties in Reservoir Hill. Druid Heights as part of a consortium lead by Healthy Neighborhoods has been selected to complete a minimum of 28 units over the next three years. The program also provides subsidy funds to be used by the perspective homeowner to help bear the cost of purchasing the property.
Location:
Reservoir Hill is a residential neighborhood north of Bolton Hill and immediately adjacent to Druid Hill Park. Reservoir Hill is bounded on the north by Druid Park Lake Drive, on the west by McCulloh Street, on the east by Mt. Royal Terrace, and on the south by North Avenue.
Zip Code: 21217
Description:
Reservoir Hill is a beautiful, historic residential neighborhood adjacent to Druid Hill Park. It is home to stately Victorian town homes, restored apartment buildings, and a diverse mix of residents from all backgrounds and all walks of life who together function as a unified community.
Please contact Chloe Williams  at 410-523-1350 or cwilliams@druidheights.com
2553 Madison – SOLD
2434 Linden – SOLD
606 Lennox – SOLD
2211 Linden Ave – SOLD
924 Newington – SOLD
2517 Madison – SOLD
2210 Park Avenue – SOLD
617 Lennox –SOLD
2406 Brookefield – SOLD
2518 Brookefield – SOLD
2228 Linden –For Sale – $250,00
2430 Linden – SOLD