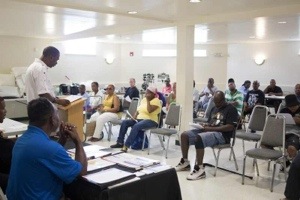 Druid Heights Monthly Community Meeting
Forum for Community Self-Empowerment
Saturday, January 25, 2014 @ 1:00 pm.
Call to Order…​ Anthony Pressley
​ Director of Community Resources
Report …​​ Officer Robert Horne
​ Central District Police Department
Presentation…​​ Ms. Octavia Byrd
​Certified Navigator / Health Care
​ Access Maryland
​ Ms. Racquel Davis
​Community Relations Specialist
​ American Beauty Academy
​ Ms. Ramona Moore Baker
​ Candidate, Registrar of Wills
Open Forum… (Opportunity to discuss concerns not on the Agenda)
Announcements…
Please be advised that Certified Navigators will be on hand to provide information and to help residents enroll in Health Care through
Health Care Access Maryland. 1:00 until 4:00 pm
Winter Clean Up for Druid Heights
Saturday, February 1, 2014
A Roll-off / Dumpster will be at the corner of McCulloh & Robert Sts. from 9 a.m. until 2 pm. Bring your bulk items and Junk.
Adjournment…
Kelly D. Little, Executive Director